The one and one only school for gogo dance training in Los Angeles
Would you like to
Get VIP ACCESS to the hottest events in town?
BE A PART of the hottest events in town?
GET PAID to perform at the hottest events?
Who this is for
Our academy is for dancers who want to break out of the choreography box, improve freestyle skills, and stage increase presence to book more jobs.
BUT this program is also OPEN TO ALL people who are new to dance and perhaps intimidated by choreography, or want to get in touch with feminine movement, or are looking to specifically book work as a gogo dancer. All start at level 1 in our program and no matter what your level YOU WILL BE CHALLENGED AND IMPROVE!
The Benefits
- Our training helps you build your confidence to express yourself.
- You'll get access to some of the best live events in the city.
- Upon graduation you'll be eligible to join our roster and be paid when we book your talent for our live events!
What's included
Our training includes:
One on one coaching.
Semi-private classes.
Your level dance classes.
Graduation certificate.
The opportunity to audition for our roster.
The Classes
Dance Classes Level 1: Gogo Foundation
There are moves every gogo dancer needs to know. Learn how to look like a pro with this standing series. Specific moves are taught, then applied with freestyle dancing. Dance Classes in Los Angeles are for all levels - whether you grew up with dance or have never taken a class, this series is designed to help people of any level grow their skills. Come ready to dance and sweat!
save your spot
Dance Classes Level 2: Floorwerk
Go further as a performer with level 2 of our dance classes right here in Los Angeles. Learn how to freestyle flow on the floor. In this series, you are taught professional floor moves that will have you feeling empowered and comfortable in your body! This level is sexy and fun. Must complete Level 1 or audition to be accepted into Level 2. Floorwerk builds confidence and (s)ass.
Save your spot
Dance Classes Level 3: Chair Combination
The ultimate tease! Learn how to chair dance with advanced moves. This level incorporates standing, floor, and chair altogether. You will move seamlessly and confidently through freestyle and choreography. Graduate the Dance Academy with this last sensual series. Must complete Level 2 or audition to be accepted into Level 3 for these Dance Classes in Los Angeles.
Save your spot
Meet your Coach
Taught by Denise Poole, the Flaunt Gogo Academy channels her 13 years of working, dancing, and performing in the nightlife industry. With her experience in your corner, you can trust she will take your moves to the next level!
We've got you
We'll be with you every step of the way to help make your training experience the best it can possibly be.  Your success is our success and we share in a deep passion to bring world-class entertainment to life.
Some Clients we've worked with
Getting started
Interested in taking our classes? Here's how to make that happen:

1- Check out our various classes above to see if they're currently available.
2- Purchase the class level you're interested in through our online checkout. (All new students start at level 1).
3- Start your new class and level up your moves!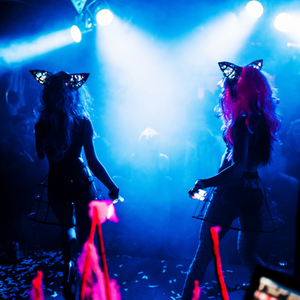 Contact via the form below, email info@flauntentertainment.com or say hello via live chat!