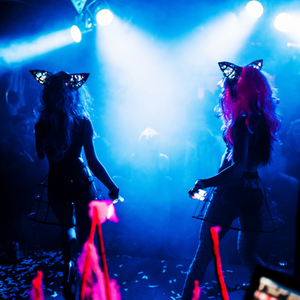 The best performers Los Angeles has to offer.
Experienced & hand-selected.
Versatile
experienced
professional
We offer LA's best event & entertainment talent to complement your next great experience.
Would you like to
Create a world-class experience for your customers?
Offer something unique and original?
Work with the top talent Los Angeles has to offer?
Who this is for
If you're an event promoter, nightclub, party planner, brand or marketing company - this if for you. We offer custom proposals of all shapes and sizes for a variety of different events - from local nightlife, to major festivals. We want to help you take your experience to the next level.
Working with us
-People remember our talent, costumes, charisma, AND YOUR EVENT.
-You'll enhance your experience with elements that your customers will talk about long after it's done.
-You'll elevate your experience working with world-class performers.
-People will line up to buy tickets for your next event.
What's included
Each experience can differ, however, our general engagement includes:
Hand-selected professional roster
Elite talent management
Stress-free scheduling
Memorable costumes
Innovative supply sourcing
Prep time and walk-throughs
Travel/parking
How it Works
You tell us about your event
We design a custom proposal
You throw a world-class event with our talent
a team with experience
Managed by Denise Poole, her 13 years of working in the nightlife industry ensures you can trust Flaunt Entertainment to deliver the best possible experience to your customer, never sacrificing quality and ensuring your event is recognized worldwide as an elite experience.
We've got you
We'll be with you every step of the way to help make your experience the best it can possibly be.  Your success is our success and we share in a deep passion to bring world-class entertainment to life.
Some Clients we've worked with
Getting started
Interested in working with us?  Here's how to make that happen:
1- Request a discovery call with us using the form below or via liva chat.  On the call we'll learn all the key specs of your event and assess what offerings might work best for you.
2- We agree to the scope of work, including types and number of talent, any custom requests, overall budget, and any further details that are appropriate for our successful engagement.
3- We send you a contract and invoice and upon signing, we get to it! (First-time clients are asked to pay at least a week in advance).
4- We check in with you before, during, and after the event to make sure you're satisfied with your Flaunt engagement!
5- We jump on another call and do it again!
Contact via the form below, email info@flauntentertainment.com or say hello via live chat!